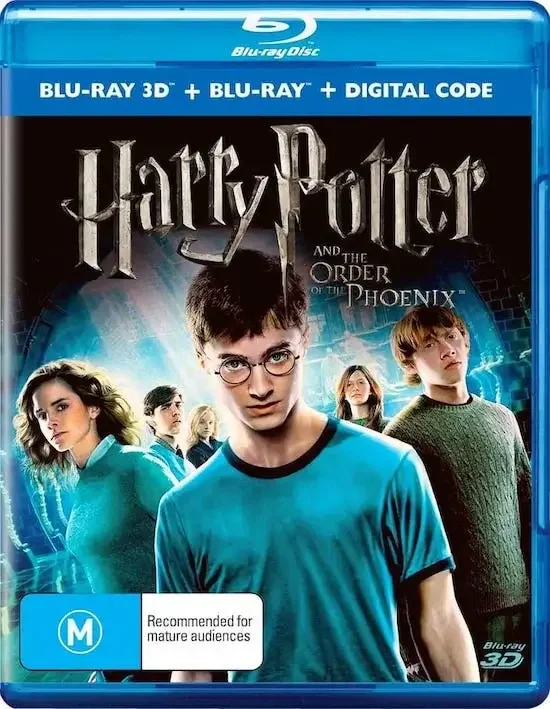 IMDB: 7,5
Harry Potter and the Order of the Phoenix 3D 2007
Réalisateur:

David Yates

Acteurs:

Daniel Radcliffe, Emma Watson, Rupert Grint, Brendan Gleeson, Harry Melling, Jason Boyd, Richard Macklin, Kathryn Hunter

Langue:

English, French, German, Portuguese, Italian, Spanish, Japanese, Hindi

Sous-titre:

English, French, Spanish, Portuguese, Japanese
Fearing that the venerable head of Hogwarts Albus Dumbledore is spreading false rumors about the return of Voldemort, seeking to undermine the authority of the Minister of Magic Cornelius Fudge and take his place in the future, Cornelius appoints a new professor of defense against the dark arts, who will have to closely monitor Dumbledore and Hogwarts students. But the ministry–approved course of lectures on defensive magic by Professor Dolores Umbridge turns out to be absolutely useless in practice - young wizards are simply unable to resist the action of dark forces that threaten them and the entire magical community. And then, at the insistence of his friends Hermione and Ron, Harry takes the initiative into his own hands.
Secretly meeting with a small group of students calling themselves Dumbledore's Squad, Harry teaches them self-defense against the dark forces, preparing the brave wizards for the unusual battle that awaits them ahead. Download and watch Harry Potter and the Order of the Phoenix 3D.

En cliquant sur le lien de Téléchargement, vous verrez un dossier avec différents formats 3D de ce film, malheureusement tous les formats n'ont pas la langue française, c'est pourquoi nous spécifions les langues dans le titre du film. S'il y a FR dans le nom, cela signifie que le fichier a une traduction française, sinon, il est possible qu'il n'y en ait pas. Attention, nous faisons de notre mieux pour ajouter le plus d'audio possible à tous les films ! Si vous avez un fichier audio pour un film que nous n'avons pas, vous pouvez nous envoyer un lien sur notre site de chat.
Rejoignez-nous dans
Telegram
et soyez le premier à connaître les mises à jour!






Vous avez acheté un premium. Contactez l'équipe de support de TakeFile, ils augmenteront votre trafic jusqu'à 512 gb toutes les 48 heures.

Lien mort? Faites-le nous savoir et nous le réparerons!